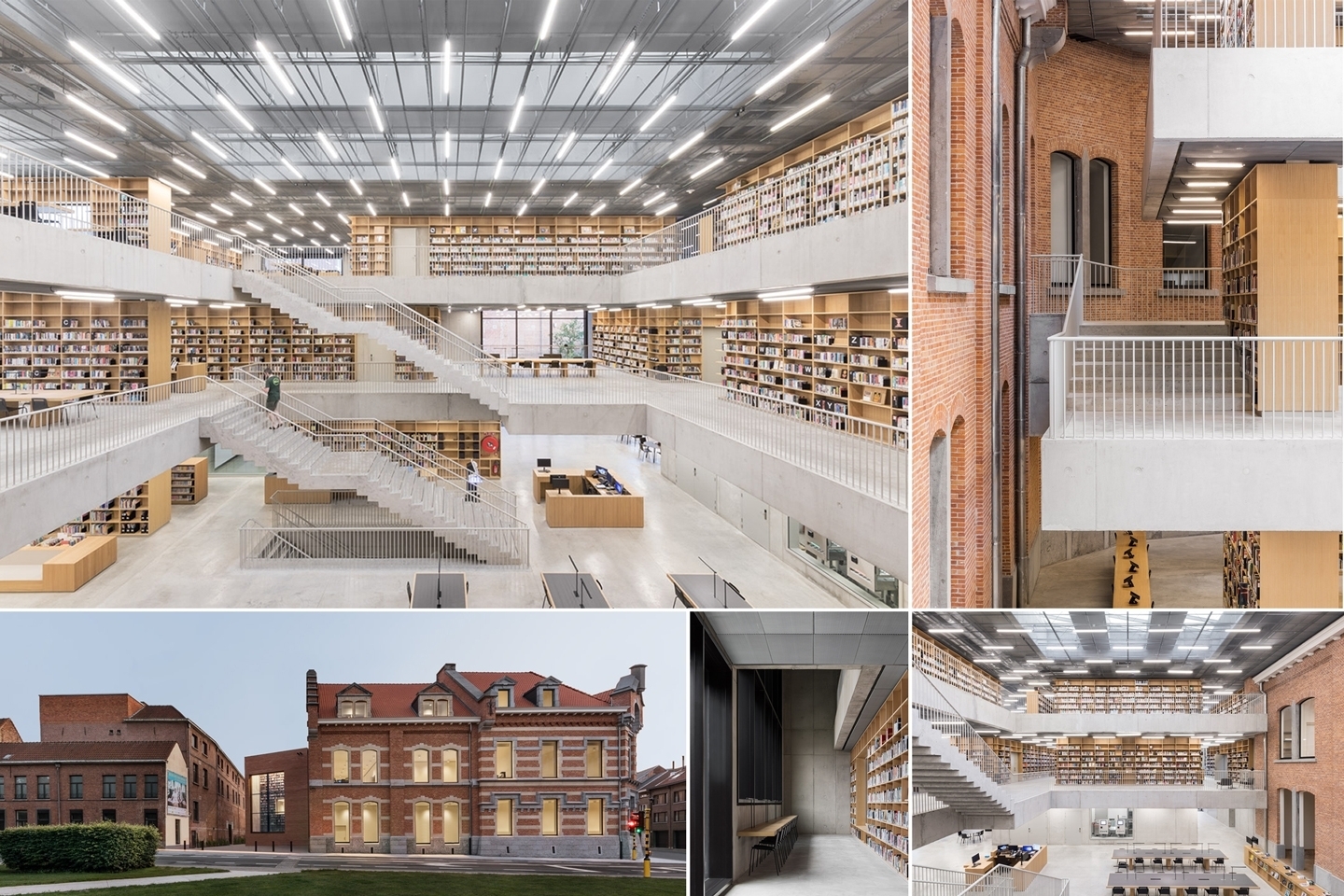 © Delfino Sisto Legnani - Marco Cappelletti
© Delfino Sisto Legnani - Marco Cappelletti
| | |
| --- | --- |
| architect | KAAN architecten |
| project | construction of a library and academy, Aalst |
| status | finished |
| period | 2016 - 2018 |
| surface area | 8.500 m2 |
| budget | 10.000.000 € |
| client | AGS Aalst |
| energy | BREEAM'excellent' |
To extend the 'Pupillenschool', KAAN architects gently slides a new library and academy space into a corner of the existing volume. The new design, a piling up of boxes that tops an L-shaped strip, completes the unfinished rectangle of the historical building. Each box contains an academy classroom. Generously illuminated by the skylight, the central atrium inhabits the spaces between the boxes and gradually evolves into library spaces. Together, they constitute an open and accessible library.
The new building is a cast concrete construction, merely made up of 30 cm-thick walls. Structurally, the first challenge lies in the way the boxes are stacked: the walls are enabled as supporting beams wherever possible, and find supports at the intersections with underlying walls.
In order to express the sharp architectural concept of the floating boxes though, the loads are diverted whenever necessary. For example, the ceiling plate and the hall above the entrance are suspended to a two-storey high wall, only to be supported by an – again two-storey high – facade column.
With the existing building dictating the floor heights, and to provide a flexible technical piping system, the thickness of the plates was kept to a minimum, with as few as possible suspended beams. The combination of high charges associated with a public library and the length of the spans and cantilevers, add up to the second big structural challenge.

Design & Build project
Architectuurprijs Oost-Vlaanderen 2019