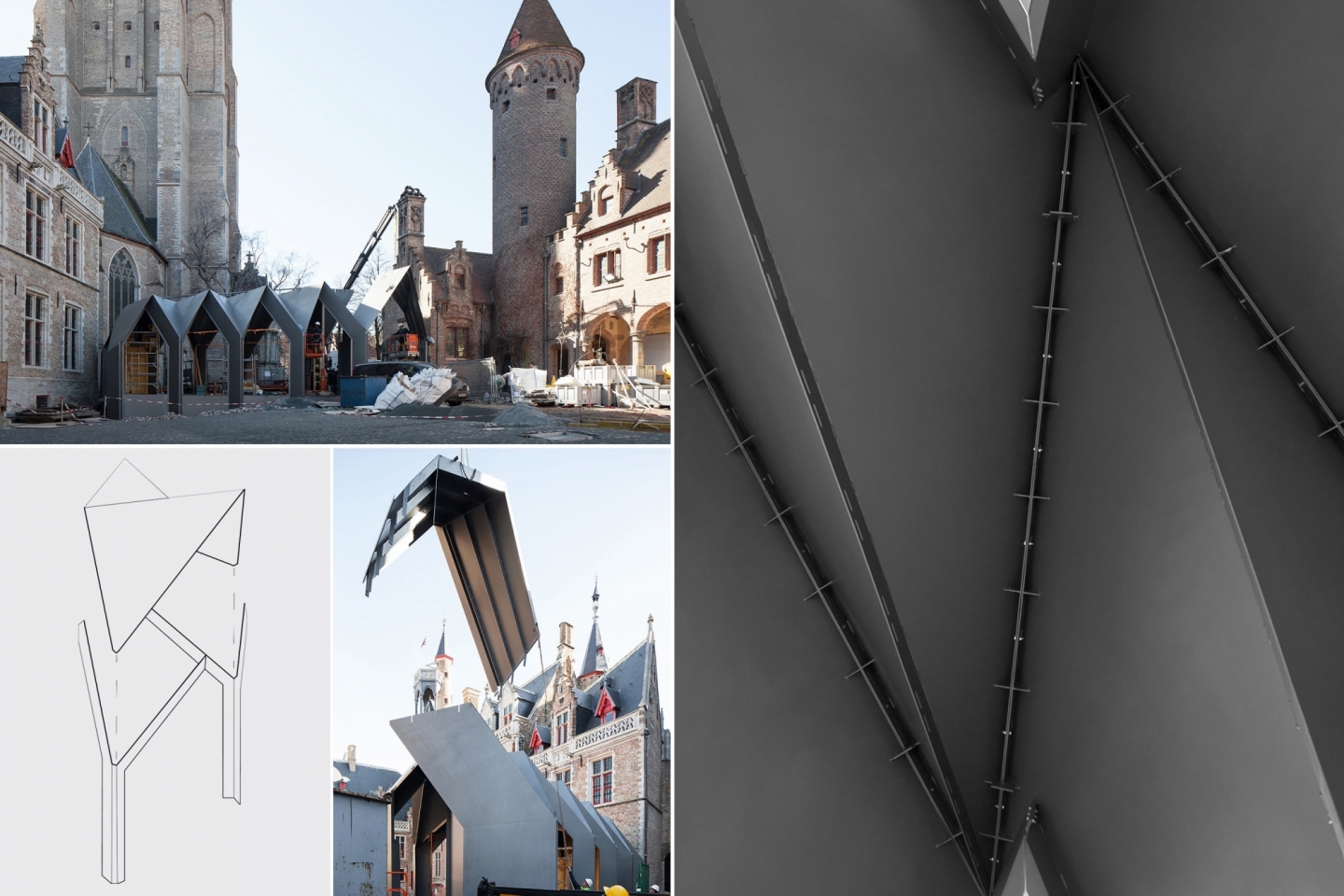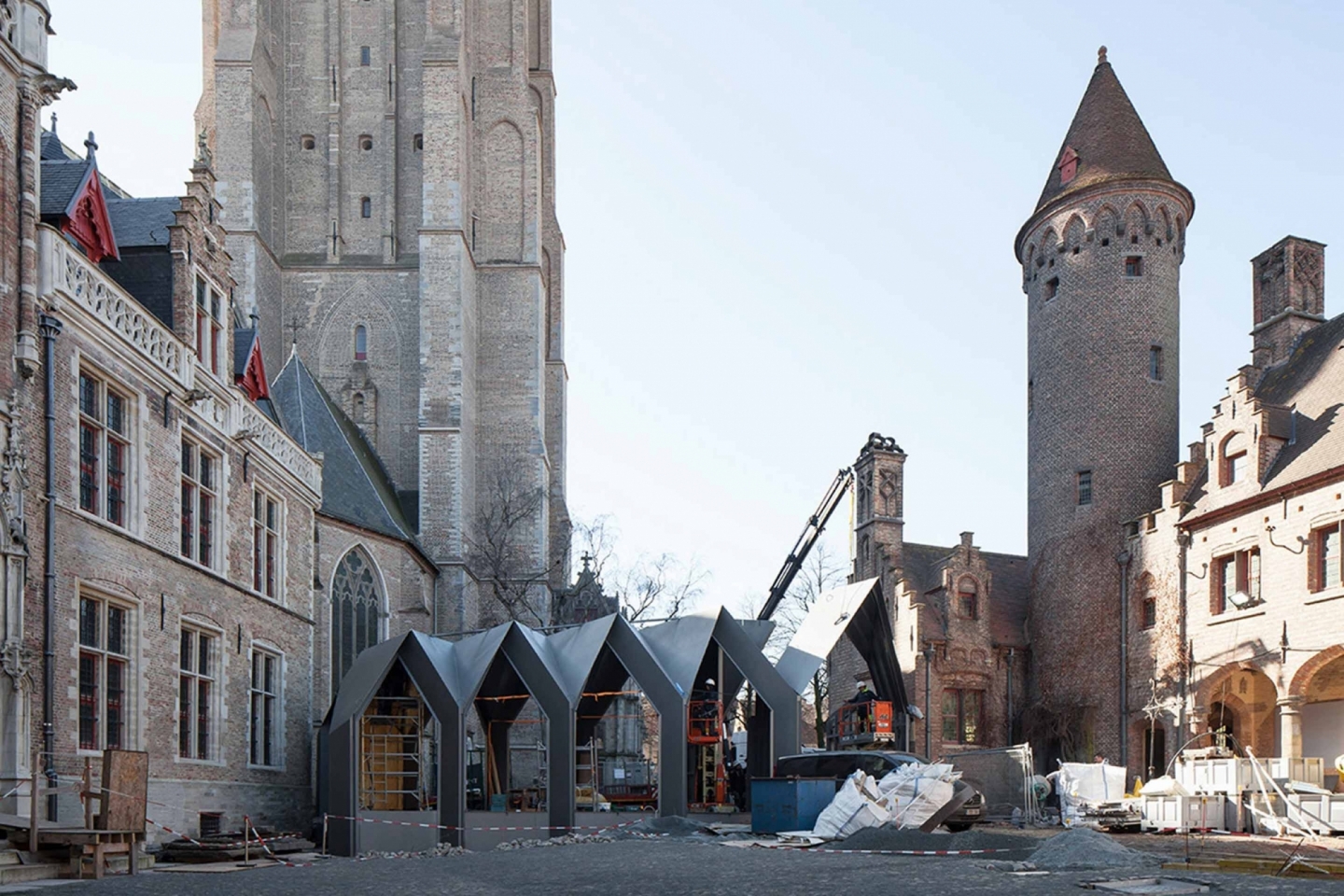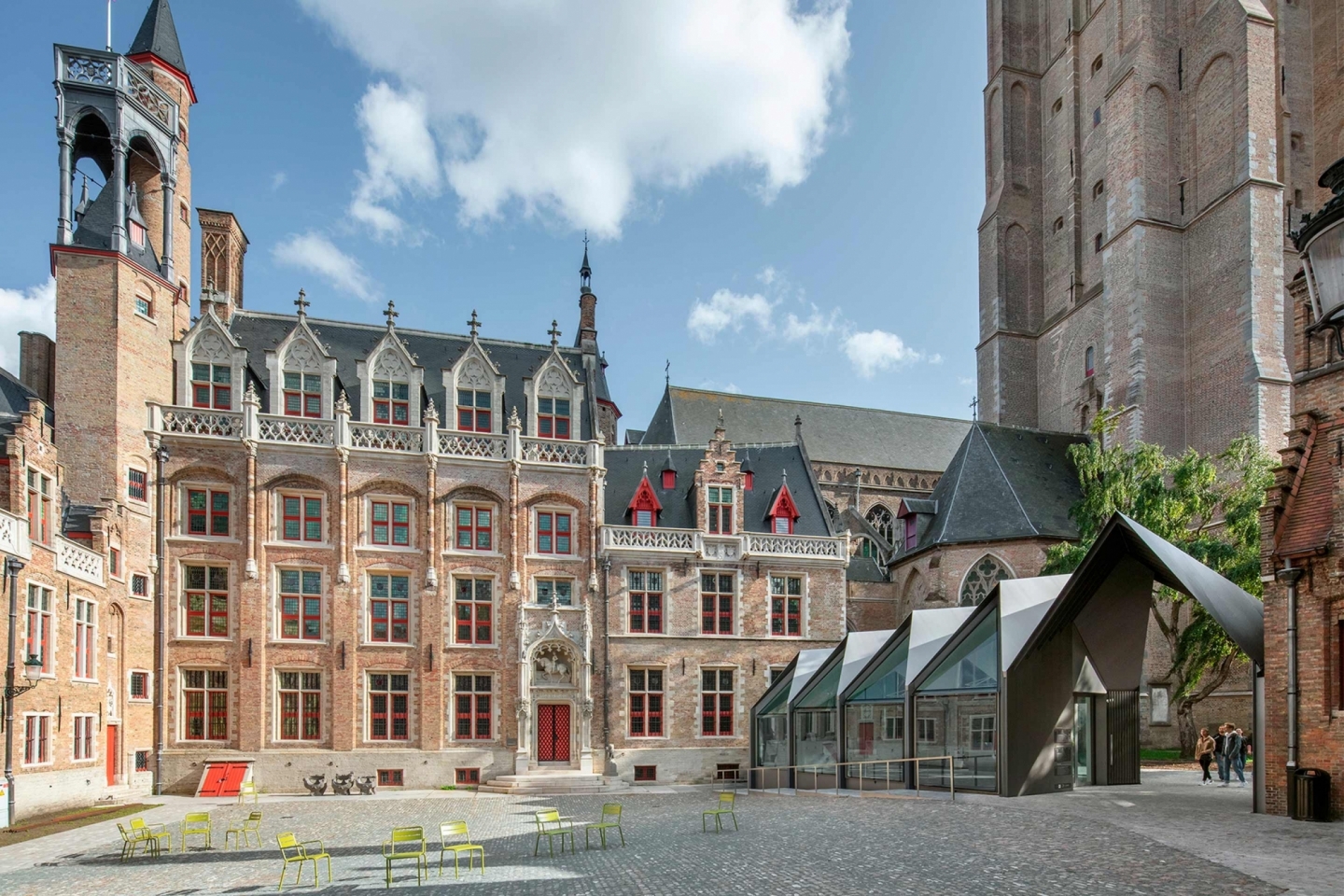 © Karin Borghouts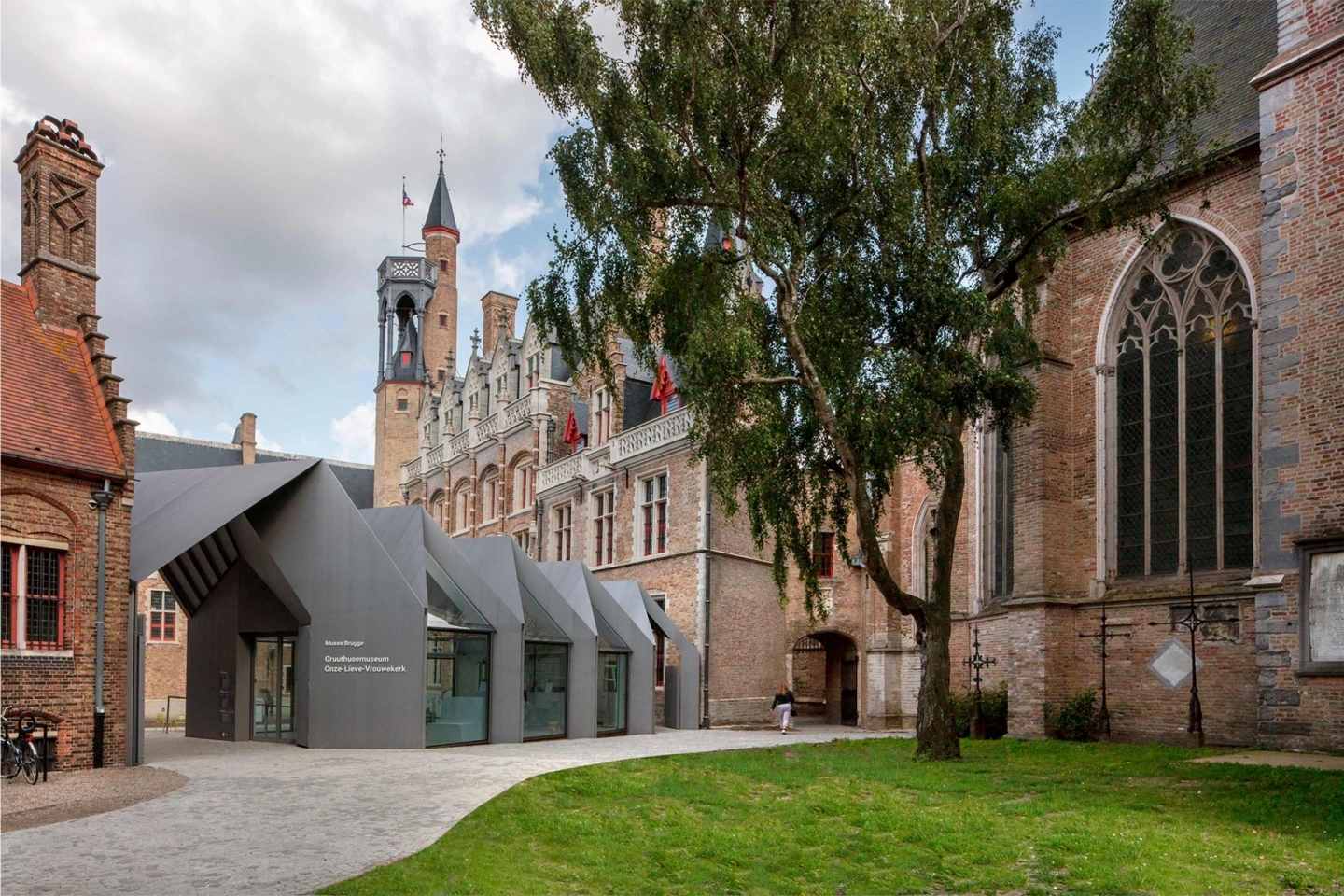 © Karin Borghouts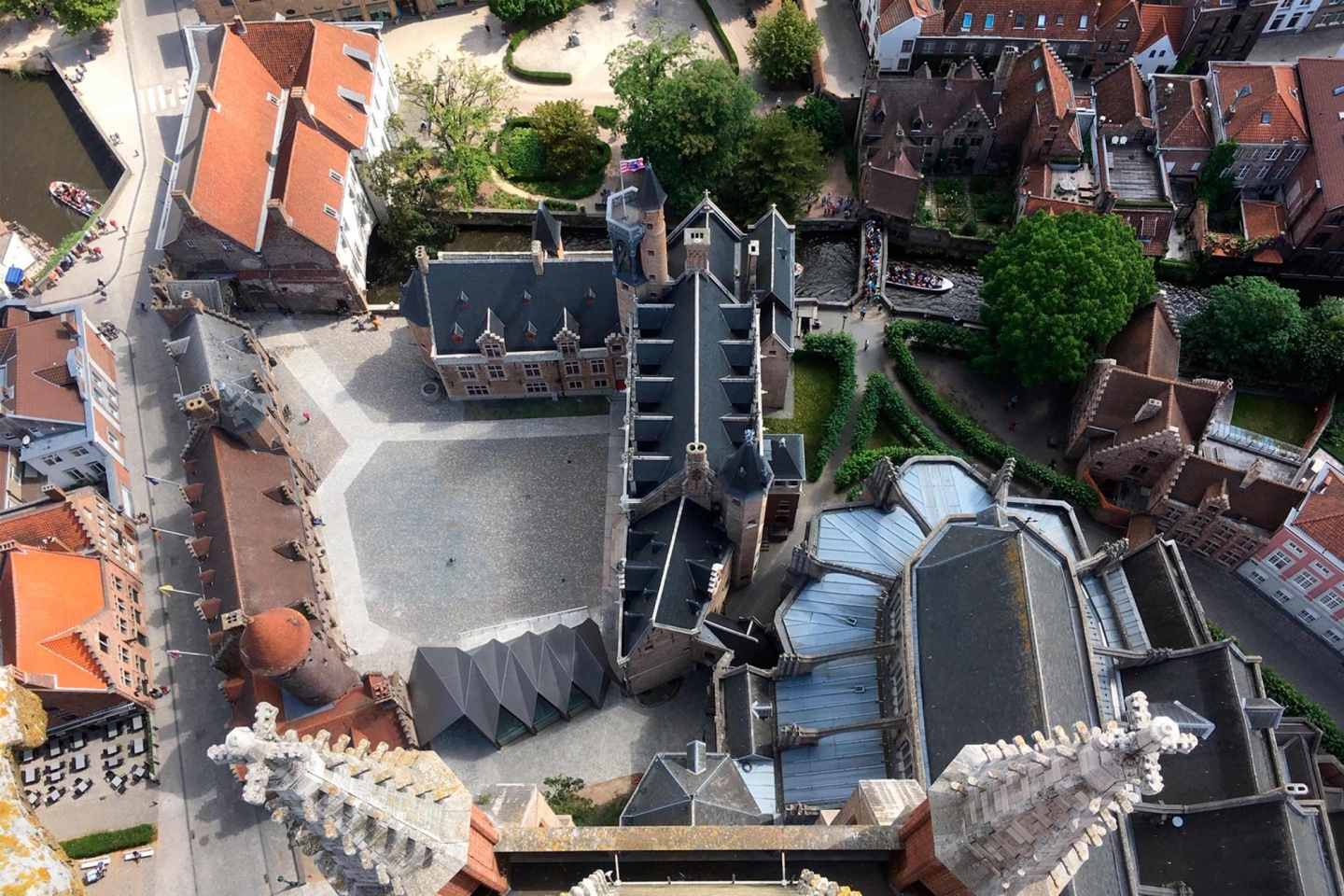 © Karin Borghouts
| | |
| --- | --- |
| architect | noA architecten |
| project | expansion of the Gruuthuse Museum, Bruges |
| status | finished |
| period | 2016 - 2019 |
| surface area | 140 m2 |
| budget | 600.000 € |
| client | Stad Brugge |
'Gruuthuse' originally formed a closed courtyard. The new pavilion restores this historical enclosure of the 'Gruuthusehof' and creates again a link between the representative and intimate character of this urban interior. As a result of its location in between the 'OLV-Church', 'Gruuthusepaleis' and 'Steenmuseum', the new pavilion highlights the historical site.
In this exceptionally valuable historical context, the pavilion emerges as a contemporary construction, an exoskeleton of steel and glass, whilst echoing the visual language of nearby monuments from the Gothic and Gothic Revival era.
The pavilion was conceived as a simple folded steel structure, according to the folded plate principle. This harmonica-like motion grants the structure its necessary stiffness. Steel serves as an ideal material to illustrate this structural principle thanks to its properties and the potential thinness of the plates. The steel exoskeleton was prefabricated in large elements in the workshop and assembled on site afterwards.
The roof planes are made up of flat steel plates of 6 mm. Two plates are connected at the gutter and welded onto a column, which is composed of 8 mm steel plates. All these elements are joined in the ridge by bolts. Locally, the large planes are stiffened through the use of welded steel 'fins'. In the vertical planes, IPE 100 profiles at a regular distance provide the necessary stiffness.
The structures of the pavilion and the canopy at the entrance are detached from each other. This way, both surfaces were limited and the use of a fire-resistant coating became redundant.
Publica Awards 2020 (Silver), categorie 'Heritage en Architecture'